Gamlen CHE Controlled Humidity Environment
Easily test and manufacture tablets under a controlled humidity environment.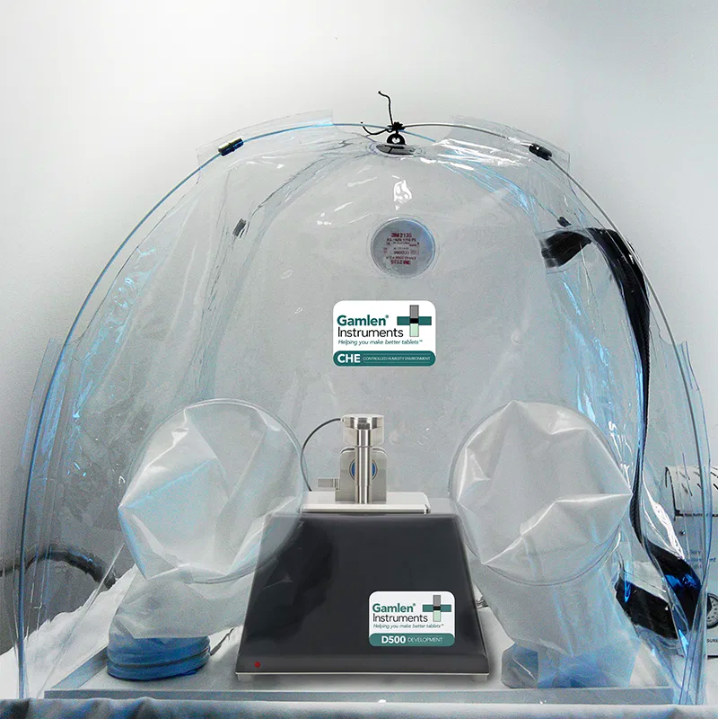 Key Features
Proprietary humidity generator combined with glove box system
Operates between 0 and 98% RH
Humidity control ±0.7% RH
0.1 °C temperature resolution
Fast set up and simple operation
Easily portable
Easy change water reservoir system
Can be used with an inert gas
Requires dry air supply and AC power only
Ergonomic curved access face
Gamlen SafeTab Plus combines operator protection with humidity control
Understand the effect of humidity and moisture content
Humidity affects the compressibility of key pharmaceutical ingredients (e.g. microcrystalline cellulose). As such, formulation and manufacturing professionals need to understand the impact of humidity on formulations. In addition, products requiring low humidity or an inert atmosphere for stability (effervescent, oxygen or moisture sensitive materials) must be studied under actual manufacturing conditions. The Gamlen CHE allows tablets to be both made and tested in a controlled humidity environment.
The GamPette is easy to use via a three-position switch (fill – off – dispense) on the hand piece.
Using the Gamlen CHE, you can dry granulate, mill, compact and pack tablets all under low humidity and without risk to your moisture sensitive materials. It facilitates quick and easy GMP manufacture of small tablet batches. The Gamlen CHE is also ideal for material characterisation, pre-formulation, formulation and process development, QbD for tablets and QC of incoming APIs and excipients. Tablets made in the Gamlen CHE can easily be transferred to closed containers or used for long term stability testing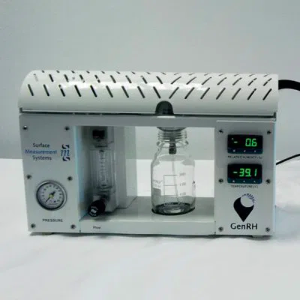 The GenRA-A is the world's most flexible instrument for precision ambient RH generation. It is combined with a fully welded Polyurethane glove bag and support frame to create the Gamlen CHE.
Benefits:
state-of-the-art capabilities
highly cost-effective
compact instrumentation
0 to 98% RH at ambient temperatures
±0.7%RH control.
GenRH-A: Ambient RH Generator