Gamlen Research Series: R500
Entry level R&D powder compaction analysis system for scientists in academia and industry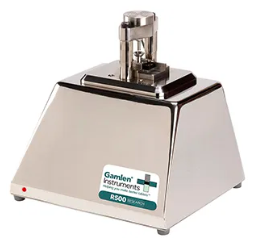 Ideal Tool For Teaching Labs
Applications:
Generate USP <1062> compaction data
Evaluate alternative suppliers
Evaluate process or formulation changes
Establish API intrinsic compaction properties
Troubleshoot manufacturing issues
Study multi-layer and dry coated tablets
Quickly compare materials and formulations
Study lubrication behaviour
The revolutionary Gamlen R500 provides precise data using tiny amounts of material. This unique compaction analyzer works by monitoring punch force and position which are displayed in real time.
Using the Gamlen R500, you will be able to quickly identify the differences in the compaction behaviour and lubrication properties of different APIs, excipients, processes and formulations.
Its integrated measurement system allows you to analyze compaction, ejection and fracture events on a single instrument. This makes the Gamlen R500 ideal for both teaching and research.
Testimonials
One of the problems in creating the course is designing an experiment that will deliver reproducible results so that the students can generate models from the data. During trialling, we quickly found that the Gamlen R series generated consistent results and allowed control of variables which made the Gamlen R series an ideal tool to teach the important course principles. Experiments were conducted repeatedly over the two consecutive days of the course and were found to generate the same data. To get our course objectives across, it was imperative that we could rely on the experiment to work and the Gamlen D Series PCA gave us that reproducibility. If errors occurred, something had gone wrong in the experiment itself i.e. errors were errors – not random noise in the data. This was important as it supported the material we were teaching.

The Department of Applied Pharmacy, Medical University of Gdansk, Poland

The Gamlen R series allows you to understand the relationship between the properties of substances, the composition of a formulation and the manufacturing process. Another useful Gamlen R series feature is that it allows determination of tablet hardness across a range of sizes. With this information, the production process can be optimised easily and faster whilst using only small amounts of material.

The Department of Applied Pharmacy, Medical University of Gdansk, Poland

I find the Gamlen R series very useful for teaching undergraduate students the principles of tablet compression because of its easy operation and favourable size for benchtop placement.

Associate Professor, Department of Organic Technology, University of Chemistry and Technology, Prague

We were impressed with the way the Gamlen R series could simulate a number of conditions that real tablet production involves, without requiring high volumes. For a teaching environment, we need to be able to manufacture small batches, at high frequency and by various different users and this machine has been able to meet these needs.

Imperial College London
Tablet compaction, ejection and fracture on one instrument
Generates all USP <1062> data
Provides compaction and ejection profiles
Proven to be indicative of plant behaviour
Software aids users to evaluate results
Easy comparison of different materials/formulations
Quick and easy to use
Pre-compression options
Multi-layer tablet options
All data automatically exported to excel
Requires minimal bench space
Suitable for GMP testing
Minimal material required to generate useful results (typically 1.5 g)
Suitable for use in protected or controlled GMP environment
Significantly less expensive than powder compaction analysis
Minimal training required (typically <2hr)
Minimal method development – test conditions unchanged 90% of the time
Minimal troubleshooting and maintenance
Compaction speed range 0.01 to 3 mm/s
Key Benefits
The Ideal Tool For Pharmaceutical Teaching Labs
The Gamlen R500 requires no other special equipment and gives the student the opportunity to learn first-hand about the critical parameters in tablet compaction. Learning with the Gamlen R500 highlights the importance of understanding material and product quality attributes.
In addition, the simplicity of the press enables teachers to easily demonstrate the key principals of quality by design now routinely used in tablet formulation. A webcam can easily be mounted on the press so that it can be displayed on a large screen to multiple students at the same time.
Good agreement in compressibility, compatibility and tabletability was found between the two presses for both formulations
In addition, ejection shear stress data from the R500 accurately predicted tablet failure on the commercial rotary press
Study examined two commercial formulations (one direct compression and one wet granulation) from a major pharmaceutical company
Tablets of both formulations were produced using a Gamlen R500 and a high speed rotary tablet press (Fette 2090)
Tablets produced from the two presses had an 8-fold difference in tablet size and differing tablet shape
Gamlen R500 Data Is
Representative
Of Full Scale
Production
The Gamlen R-Series Silver Research Package
Gamlen R500
Manual Dashboard Software
GamPette Powder Dispenser
Key Benefits
Ideal for teaching labs
Suitable for researchers that have experience of compaction analysis
Provides USP <1062> and lubrication data
The Gamlen R-Series Gold Research Package
Gamlen R500
Manual Dashboard Software
GamPette Powder Dispenser
Key Benefits
GamPette typically dispenses powder with ±2% accuracy or better
The GamPette significantly speeds up compaction analysis and tablet manufacture by avoiding time consuming powder weighing