Operator protection combined with a controlled humidity environment.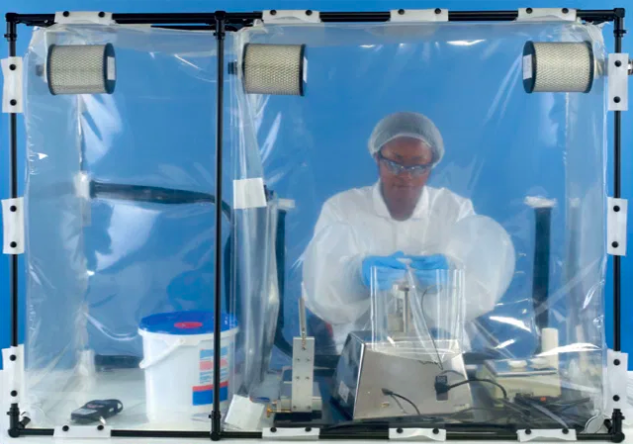 The Gamlen SafeTab Plus combines the safety features of the Gamlen SafeTab with the humidity control of the Gamlen CHE (controlled humidity environment). This allows you to understand the effect of humidity on your APIs, excipients and formulations while providing users with a high standard of respiratory and dermal protection.
Humidity affects the compressibility of key pharmaceutical ingredients and moisture sensitive materials must be studied under actual manufacturing conditions. Now you can dry-granulate, mill, compact and pack tablets without risk to your moisture-sensitive materials while ensuring operator safety. The SafeTab Plus facilitates the safe handling of OEL class 4 and 5 materials as well as cytotoxic APIs. It is ideal for small scale GMP manufacture, material characterisation, pre-formulation, formulation and process development, QbD for tablets and QC of incoming APIs and excipients.
Operates between 0 and 98% RH
Humidity control ±0.7% RH
0.1 °C temperature resolution
Fast set up and simple operation
Easy change water reservoir system
Can be used with an inert gas
Humidity generator requires dry air supply and AC power only
Operator protection
Suitable for OEL 5 and cytotoxic materials
Proven performance
Suitable for small scale tablet manufacture
Size is customised to requirements
Wide range of options and accessories
Can be used for a range of testing techniques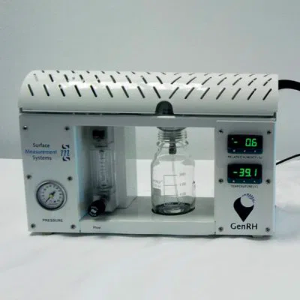 The GenRA-A is the world's most flexible instrument for precision ambient RH generation. It is combined with the Gamlen SafeTab containment system to create the Gamlen SafeTab Plus.
Benefits:
State-of-the-art capabilities
Highly cost-effective
Compact instrumentation
0 to 98% RH at ambient temperatures
±0.7%RH control.
GenRH-A: Ambient RH Generator
Zone 1: Entry Airlock
double zipper ante-chamber that permits clean items, containers and cleaning materials to be added
Zone 2: Product Handling Chamber
double doors allow the inbound items into the Product Handing Chamber where they can be processed according to your operations
Zone 3: Exit Bag Liner
permits items that may have slight surface contamination to exit the PHC with no loss of containment or air escape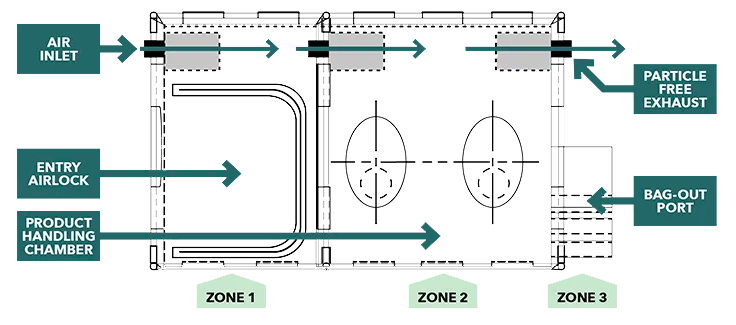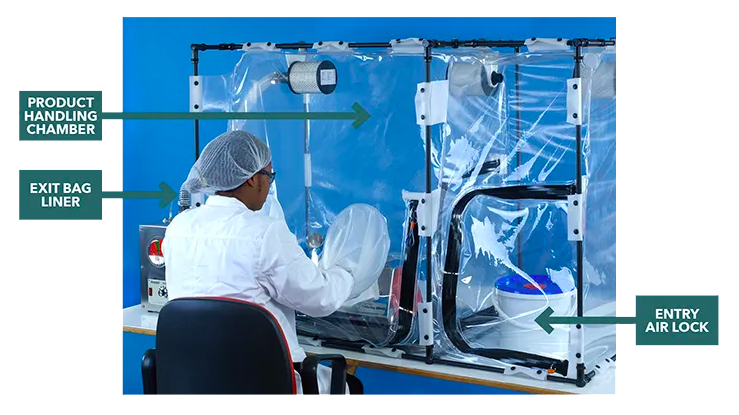 SafeTab Plus systems are set up to assure containment
The SafeTab Plus operates with a simple negative pressure airflow system for added assurance that materials cannot escape if a tear or glove split occurs. The airflow system is designed to create a 0.5 m/s capture velocity across a fully open glove cuff. This velocity is proven to prevent particulate escape from isolation systems. All SafeTab Plus isolators are inflation tested to 330 Pa pressure to ensure the enclosure is gas tight. The SafeTab Plus can also be supplied as a Nitrogen or Argon inerted chamber that may be vented or simply maintained as an inflated enclosure.
Quick and easy
set up
The Gamlen SafeTab Plus provides equivalent containment to a hard-shell isolator that can be built and operating in less than an hour.
Cost effective, the SafeTab Plus can be shipped flat-packed to your facility for set up by in-house technicians.
Alternatively We Offer A Full Service Option That Includes:
Site assembly and set up
Operator training for potent compound handling
HEPA filter and air flow validation
IQ / OQ Material certification for regulatory compliance