Gamlen Tablet Tensile Analyzer (TTA)
Automatic measurement of key tablet critical quality attributes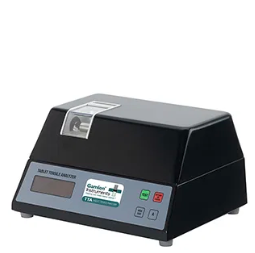 Key Benefits:
Simultaneous tablet diameter and tensile fracture strength measurement
Slow speed tablet fracture to generate true tensile fracture stress values
Quick and easy testing, no training required
Suitable for a wide range of tablet shapes and sizes
Small benchtop footprint
Ideal for controlled or protected environments
Facilitates fully automated compaction analysis
Automated Analysis
The Gamlen TTA is a modified tablet tensile tester. It allows you to simultaneously measure tablet diameter and hardness. We have specially developed  the TTA to simplify the evaluation of tablet samples made using Gamlen D-Series instruments. As such it can be used to easily generate compactibility, compressibility and tabletablity plots for use in QC or R&D.
The Gamlen TTA can also facilitate fully automated compaction analysis. Combine it with the Gamlen Dashboard software to capture, record and analyse data with minimal user input.
Contact us to find out how easy we've made automated compaction analysis