GamPette Precision Powder Pipette
For precise, fast and reproducible powder dispensing.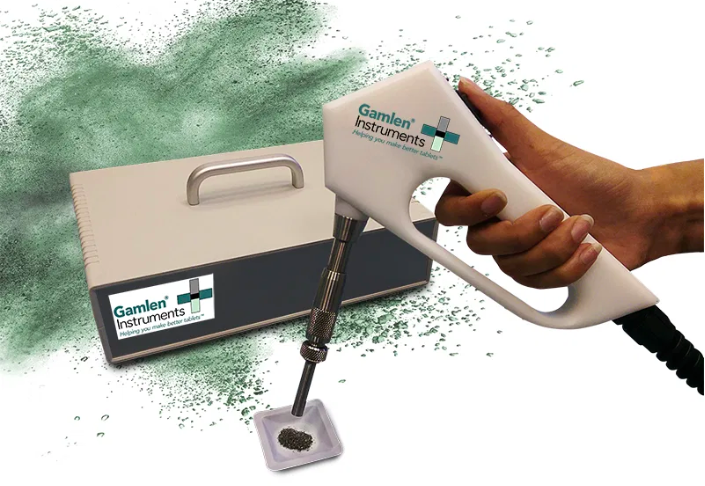 GamPette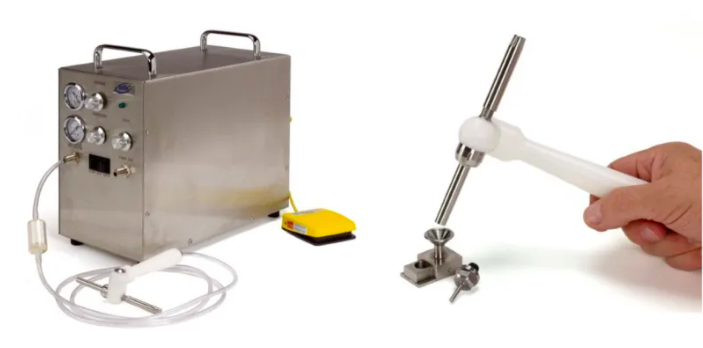 GamPette HC High Capacity
Do you need to repeatedly and accurately dispense the same weight of powder? The GamPette powder pipette dispenses powder weights from 10 mg to 10 g accurately and reliably, saving time, money and materials. And now the GamPette HC (high capacity) allows you to dispense powder samples up to 25 g quickly and accurately.
The GamPette is a handheld powder pipette comprising of a dispensing handle and a controller unit. Powder is drawn into the pipette tip in the handle under vacuum and then expelled under light positive pressure. The pipette tip is adjustable to accommodate a range of sample sizes.
Precise and Reproducible
The GamPette dispenses powders reproducibly and with high levels of precision  (50mg +/- 2mg; 150mg +/- 1mg; 1000mg +/- 2.5mg)
No Cross Contamination
The easy to change, low cost, cellulose filter incorporated into the delivery line of the pipette avoids any risk of cross contamination.
Lightweight
The ergonomic hand piece allows for easy and fatigue free use. It connects to a compact control unit via a flexible vacuum pipe.
Flexible
Multiple handle sizes can be used with a single GamPette controller unit. These are manually adjustable to cover a wide weight range, providing an economic, versatile powder dispensing system. Custom designed GamPette nozzles and pipette tips can also be supplied to order.
Easy To Use
The GamPette is easy to use via a three-position switch (fill – off – dispense) on the hand piece.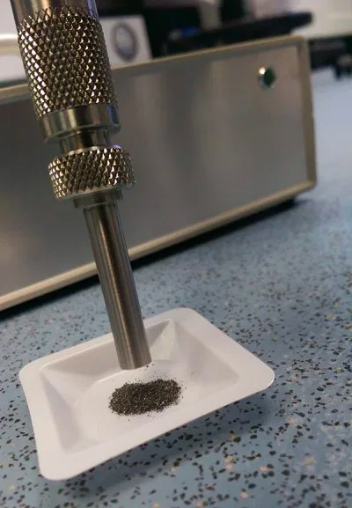 GenRH-A: Ambient RH Generator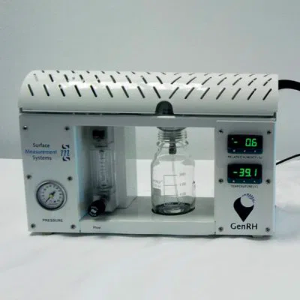 Benefits:
State-of-the-art capabilities
Highly cost-effective
Compact instrumentation
0 to 98% RH at ambient temperatures
±0.7%RH control.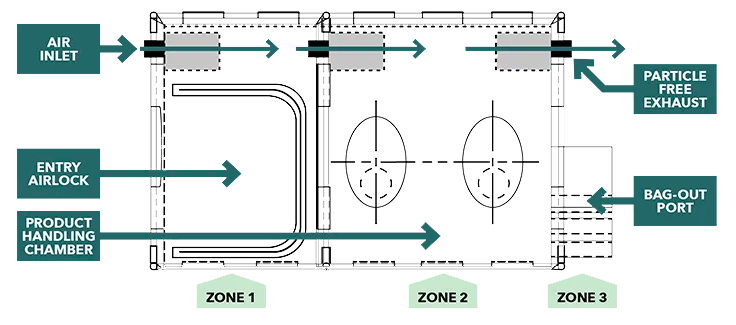 Zone 1: Entry Airlock
double zipper ante-chamber that permits clean items, containers and cleaning materials to be added
Zone 2: Product Handling Chamber
double doors allow the inbound items into the Product Handing Chamber where they can be processed according to your operations
Zone 3: Exit Bag Liner
permits items that may have slight surface contamination to exit the PHC with no loss of containment or air escape
SafeTab Plus systems are set up to assure containment
The SafeTab Plus operates with a simple negative pressure airflow system for added assurance that materials cannot escape if a tear or glove split occurs. The airflow system is designed to create a 0.5 m/s capture velocity across a fully open glove cuff. This velocity is proven to prevent particulate escape from isolation systems. All SafeTab Plus isolators are inflation tested to 330 Pa pressure to ensure the enclosure is gas tight. The SafeTab Plus can also be supplied as a Nitrogen or Argon inerted chamber that may be vented or simply maintained as an inflated enclosure.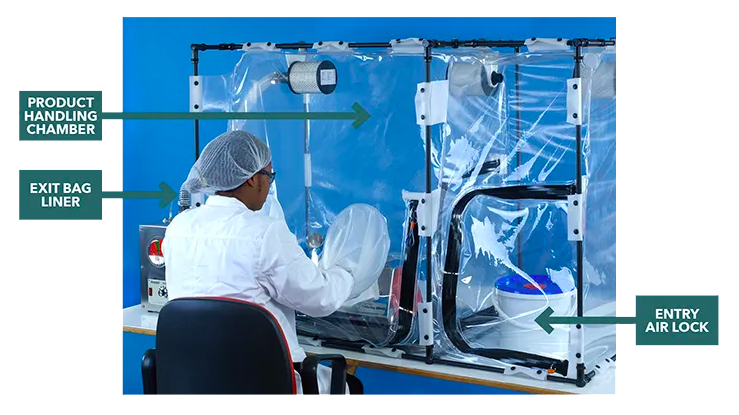 Alternatively We Offer A Full Service Option That Includes:
Site assembly and set up
Operator training for potent compound handling
HEPA filter and air flow validation
IQ / OQ Material certification for regulatory compliance
The Gamlen SafeTab Plus provides equivalent containment to a hard-shell isolator that can be built and operating in less than an hour.
Cost effective, the SafeTab Plus can be shipped flat-packed to your facility for set up by in-house technicians.
Quick and easy
set up