HIGH SHEAR GRANULATOR 1-6 | GP HSG 1-6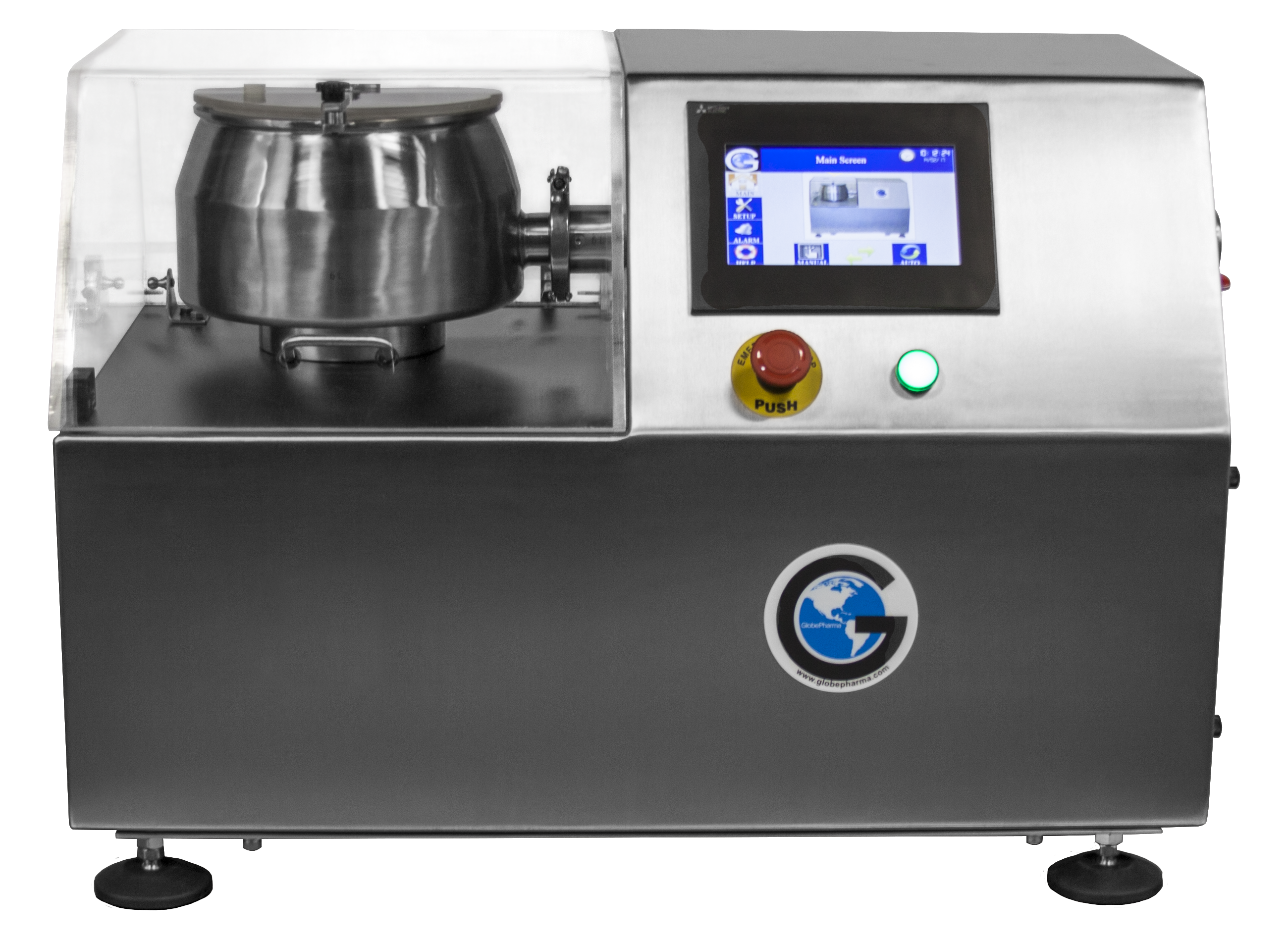 MIXING BOWL:
The GP HSG 1-6 high shear granulator bowl is of a vertical cylindrical design with a conical upper section for maximum mixing efficiency. The bowls mount to the machine base by means of a bayonet locking system. Installed and removal is without the use of tools.
BOWL LID:
All bowls come equipped with transparent acrylic lids. The lids can be completely removed from the high shear granulator. Each is provided with an O-ring seal. The lid secures to the bowl with a knurled screw. There is a port for liquid addition and a temperature probe, if so equipped. There is a sintered metal filter on the lid.
MAIN IMPELLER:
The mail impeller is one piece with three tangentially welded wing-tip type blades. The end of each blade is enlarged for maximum mixing efficiency. The impeller can be installed and removed from the high shear granulator without use of any tools.
CHOPPER:
The GP HSG 1-6 Granulator chopper consists of two "U" shaped blades which are laterally mounted on the wall of the bowl. The chopper installation and removal is easy without the use of tools.
SEALS:
Both the impeller and the chopper drive shafts are equipped with Teflon (PTFE) seals, which can be easily removed for cleaning.
MACHINE FRAME:
The motors, variable frequency drives and controls are enclosed in a stainless steel frame with adjustable feet. The operator control panels are on the outside of the frame.
SAFETY HOOD:
The machine is equipped with an acrylic safety-interlocked hood which covers the entire mixing area. The hood safety switch must be in a closed position for the machine to operate. A liquid addition port is provided on the hood.
DRIVE SYSTEM:
Both the GP HSG 1-6's impeller and the chopper speeds are controlled by variable frequency drives for infinite adjustment of speed over the entire speed range. Maximum impeller speed is 1500 rpm and the maximum chopper speed is 2200 rpm.
UTILITIES:
The basic unit operates at 208-230V/1 Phase/60Hz. A transformer can be accommodated within the machine to operate it with 110V/60Hz.
MATERIALS OF CONSTRUCTION & FINISH:
All the contact parts are 316 Stainless steel and polished to 0.8 μm finish. Exterior parts are 304 SS. The exterior of the enclosure is a #4 satin finish.