Samplers for liquid, semi-solid and suspension sampling are available in different diameters, lengths and models.
LIQUID SAMPLER MODEL VIII

This sampler is available for use with 5cc and 60cc sterile disposable syringes.
LIQUID SAMPLER MODEL XI

Model XI-B Liquid Sampler, 48" long, 1.0" OD, made of 316L stainless steel with RA 10 finish (mirror finish) on the inside, electropolished, and passivated as per ASTM A-967 standards.
LIQUID SAMPLER MODEL IX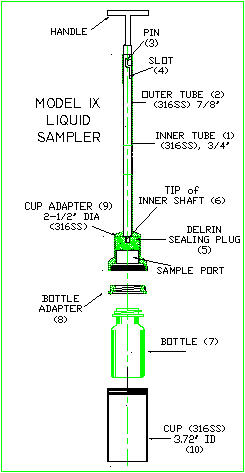 Model IX is a custom-made and it takes one sample into a glass or plastic bottle. The bottle is enclosed in a stainless steel cup and does not get wet outside.