An all stainless-steel tumble V-Blender for use with powders.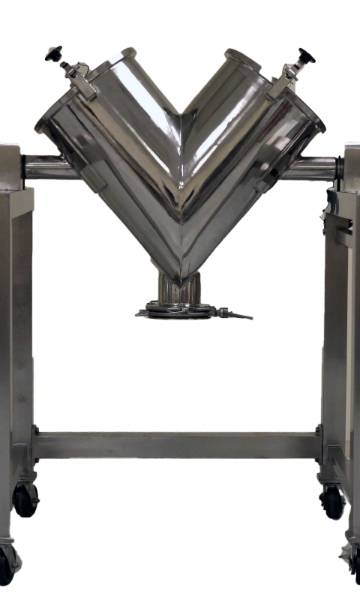 All stainless steel construction and on casters
Control box with on/off switches and a timer.
Direct Drive.
Optional high-speed solids intensifier bar
Optional integrated SIFT-N-BLEND attachment for eliminating the pre-screening step before blending
Safety interlock guard.
Sanitary butterfly valve.
Optional sanitary butterfly valve

Shell working capacities: 1,2,3,5,or 10 cu.ft.
Shell speed: Fixed speed – 18 rpm, Variable speed up to 25 rpm.
Intensifier bar speed: 3300 rpm
Electrical: 208, 3 Phase, 60Hz.
MATERIALS OF CONSTRUCTION
Stand, the drive shaft and the caster hardware are all made of 304 SS.
V-Shells are made of 316L SS
cGMP Valve: 316L SS with #4 finish on the valve body and #7 finish on the vane, valve lining is made of FDA approved platinum-cured silicone rubber.
Shell Gaskets: FDA approved white Nitrile rubber.
Safety guard: Frame is made of aluminum and the panels are made of ½" thick acrylic.