GlobePharma's new MAXIBLEND® Lab Blender is a self-contained tumble blender intended for blending of powders in V-shells and bins.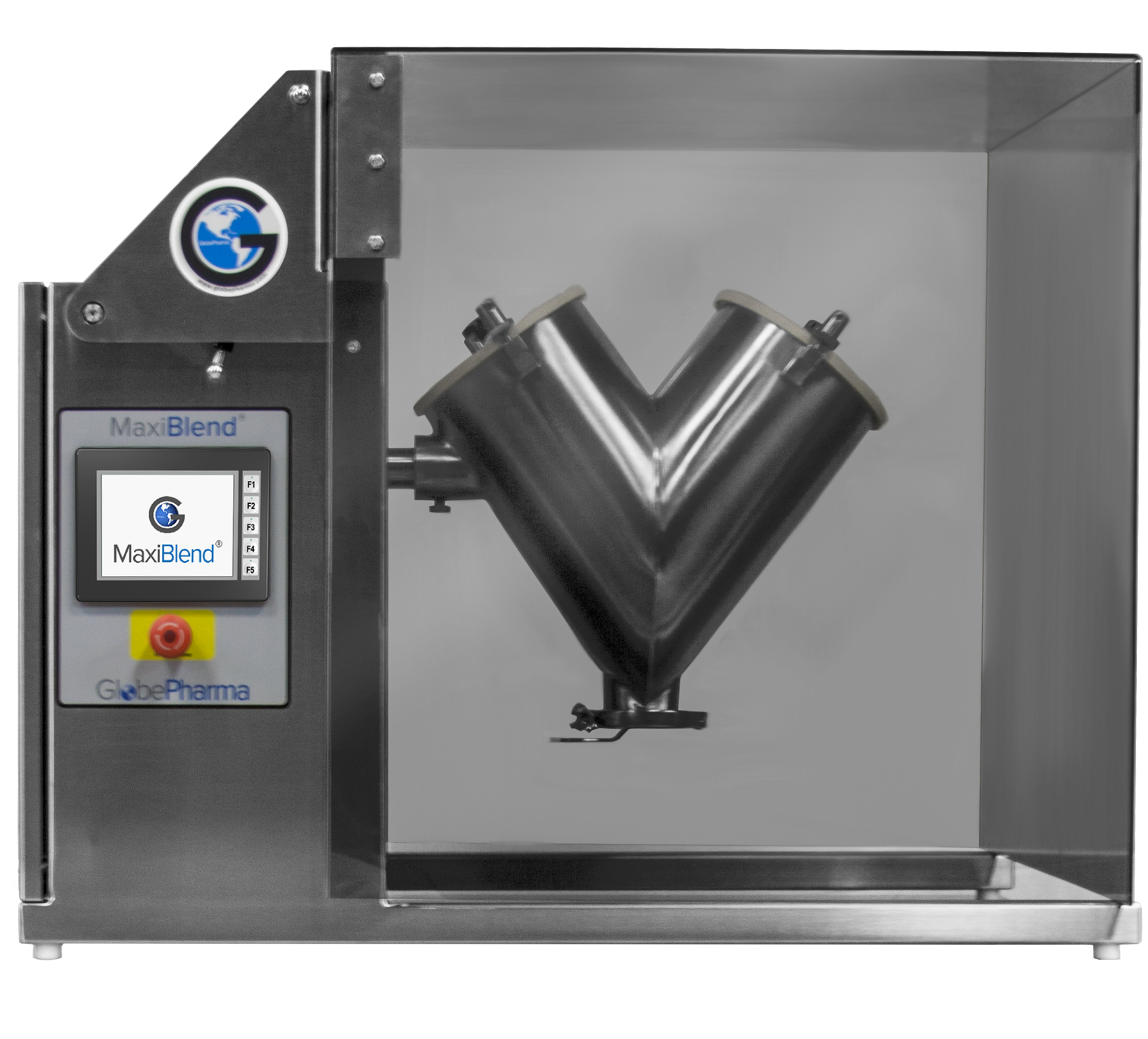 GlobePharma, Inc. is innovating lab scale blending with the new MaxiBlend Lab Blender.
The new MaxiBlend Lab Blender features an upgraded, intuitive control interface and seamless, all-stainless steel design.
Our MaxiBlend Blenders offer the following innovative and upgraded features:
All welded vessels with an internal mirror finish and external satin finish.
Tri-clamp discharges for all vessels
All vessels available from 1 qt to 16 qt in V-shell, Bin or Double Cone,
All 4,8, & 16 qt vessels available with various Intensifier Bars.
Patented Sift-N-Blend attachments for 4, 8 and 16 qt for all geometric configurations.
Blenders and attachments are normally stock.
Complete versatility and interchangeability for multiple applications.
CE Compliant

Weight Empty: 190 lbs
Dimensions: 41"L x 19.5"W x 21.5"H
Blender Shell Volume: 0.5, 1, 2, 4, 8, and 16 quarts
Blender Shell Speed (Fixed Speed Version) 25 rpm (nominal)
Blender Shell Speed (Variable Speed Version) 3-25 rpm
Intensifier Bar Speed: 3,450 rpm
Maximum Charge Density:
16 quart intensifier bar model: 125 lbs / cu. ft.
4, 8 quart intensifier bar models: 140 lbs / cu. ft.
4, 8, 16 quart pin bar models: 200 lbs / cu. ft.
2, 4, 8, 16 quart without bar Models: 200 lbs / cu. ft.
Shell Drive Motor: 0.3 hp, 1 Phase, TEFC
Intensifier Drive Motor: 0.75 hp, 1 Phase, TEFC
Electrical: 115 V/230V, 1 Phase, 50/60 Hz, 15/7.5 amps, grounded.
MATERIALS OF CONSTRUCTION
Drive Station Housing : Clear Anodized Aluminum Panels
Safety Enclosure : Polycarbonate
V-Shells, Bins and Double Cone Shells : 316 Stainless Steel
Drive Shaft : 316 Stainless Steel
Intensifier Bars : 316 Stainless Steel
Cart : 304 Stainless Steel